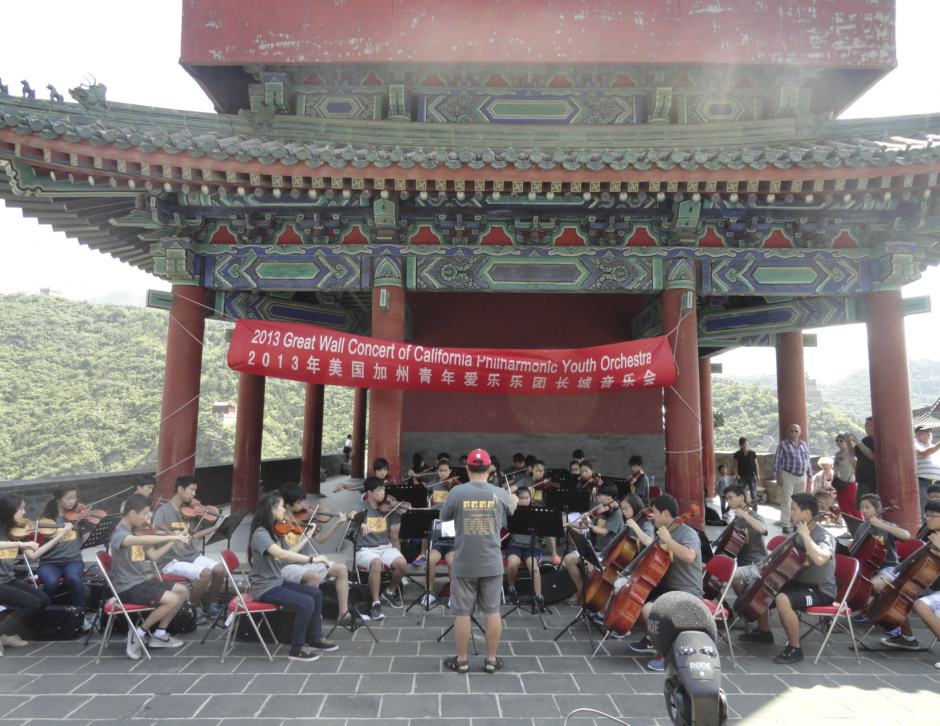 CPYO Asian Tour 2013 – Performance at the Great Wall
By KyungMin Kim - On 23 Jun, 2013 - 0 comments
Editor's Note: Min is CPYO Asian Tour 2013 coordinator
Our morning started with sunny and blue sky, no rain, not chilly anymore. It was so perfect day to perform at the Great Wall. I was told that there is no shade at Great Wall in general, but CPYO was so lucky that we could set the stage under the shade of near entrance tower and that shade disappeared right after our concert. After a short warm-up, they performed all three repertoires.
Many tourists stopped by and listened to our performance, and many took pictures and video. Some of them took a picture of themselves next to our performers while they performed. As a parent and the coordinator, I was so proud of our members!!!
Our professional 🙂 photographers/videographer of CPYO Asian Tour: Mr. Lin, Mr. Zhang and Mr. Tsou took a video and many pictures, so hope we can share with parents when we come back.
After the performance, we climbed the Great Wall. It was very steep stairs toward sky at the beginning of the Great Wall, and most of the members conquered the first tower, many of them reached up to the 2nd tower, and some of them challenged up to the 3rd tower in a hour. Although it was so very tiring, they were very proud of their accomplishment.
After lunch, we visited a jade factory and the Olympic Stadium, then watched the Beijing Acrobatic performance. It was a loooong day, and we were tired enough for a good night sleep. The 3rd day of the tour has come to pass.
It's a another sunny day this morning. CPYO will have the 2nd concert today!!!