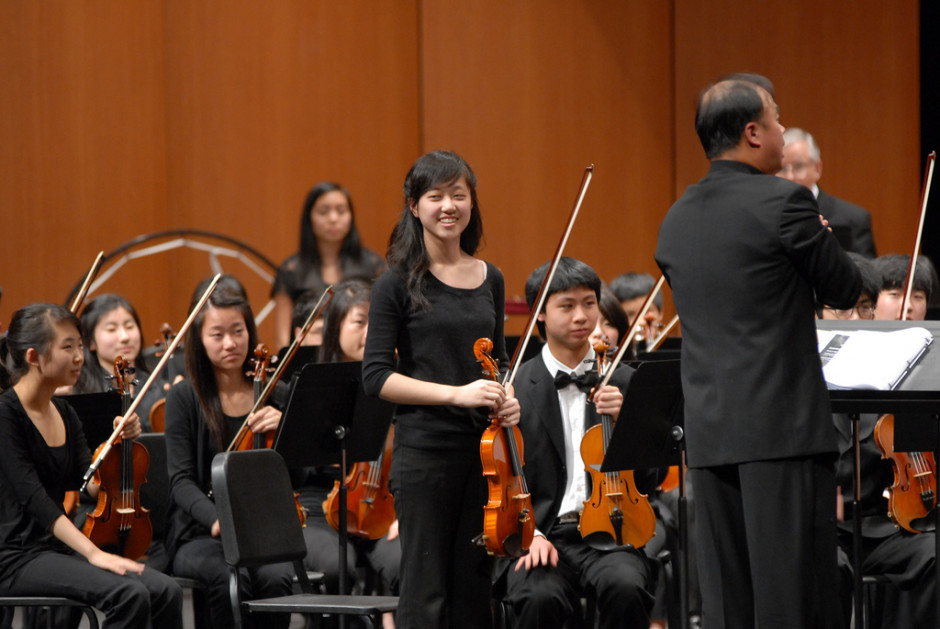 A Musical Journey
By Sarah Tsou - On 26 Aug, 2013 - 0 comments
Editor's Note: Sarah was CPYO Senior Orchestra concertmaster for the 2012-13 season. She is currently a newly minted Harvard freshman.
Powerful swells, crescendos; hours of sweat and frustration giving way to an intangible yet wholly real sense of connection and cohesiveness; the entire orchestra falling into place, playing and breathing as one…
These are the experiences that have kept me coming back, again and again for years. These have been my own experiences over the past five years with the California Philharmonic Youth Orchestra, experiences undoubtedly shared amongst my fellow peers, and experiences I hope many more will share in in the coming years.
I still remember my first day of rehearsal with CPYO—I was 13 years old, walking into the big music room of West Valley College, clutching my violin tightly as I scanned the room nervously, not entirely sure what to do or where to go. Never would I have guessed the amazing journey that would await me in the years to come…
…the music. From beautiful, soaring melodies to intense, pesante themes, the music we play is wonderfully varied, coaxing us students to practice ever more diligently, challenged by difficult passages. Tchaikovsky, Rimsky-Korsakov, Mozart, and more. I can still remember each piece, and most importantly the journey of each piece. I still never fail to be amazed by the progress we make together, the hours of rehearsing devoted from the initial sight-reading session all the way to being concert-ready. In particular, I remember one instance: CPYO's Carnegie Hall debut, a concert of a lifetime. Maybe it was the awe of performing in such a beautiful hall, on the same stage so many other renown musicians had stood… whatever it was, I remember a feeling: a deep, inexplicable sense of connection with every single one of my peers, the sense that this is what music is all about…about passion and emotion and unity. And that sense is by no means confined to that singular concert — I have seen us grow as a group, growing closer and better with each passing day.
…the people. I will never forget the relationships I have forged over my years in CPYO. Playing together and practicing together, pushing each other forward competitively yet never maliciously—these are the bonds that grow stronger with each passing day, with each passing year. And when we all converge upon Walden West each summer for the summer workshop ("camp"), the entire week seems almost… magical. The isolation up in the wilderness and the hours upon hours of rehearsing (I counted once that we had around 8 hours of rehearsals per day) would seem torturous, but there is always something more here. Here is a week devoted to music, without the outside distractions of homework and tests and other obligations. Here is a week spent with peers who love music as much as you do, a week whose nights are spent playing wild games of "Big Booty" and "Human Knot" and "Taboo" and more. Here is a week of connection. Camp was always a highlight of my summers, and I will still always look fondly back on my days there in Walden West.
Five years worth of Friday nights have been spent rehearsing and playing music, in the company of wonderful musicians and peers — and I would never have it any other way. Thank you, CPYO, for all that you've given me, for all that I've received; I've grown both as a musician and as a person in your company, and as I move onto a new chapter in my life, the lessons I've learned and the relationships I've forged will never be forgotten. All I can say is, thank you.