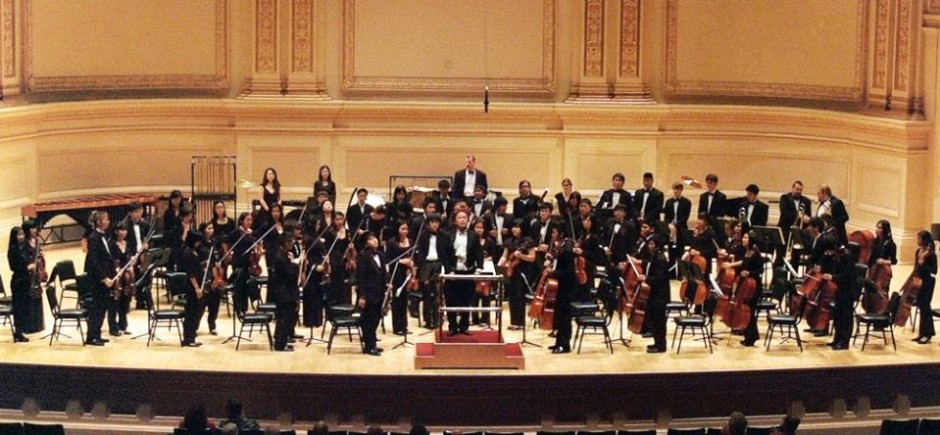 Senior Orchestra
Carl Maria von Weber – Der Freischutz
Lalo – Cello Concerto,

Brian Jeong, Soloist

Cesar Franck – Symphony in D Minor
Associate Orchestra
Mozart – Symphony no. 31
Elgar – Cello Concerto,

Andrew Cho, Soloist
---
Soloist Profile
Brian Jeong is currently a 15-year old sophomore at Lynbrook High School. He began taking piano lessons at the age of five. Once he experienced the musical world, the sound of the cello truly captivated him. He began playing cello at the age of eight under the tutelage of Ms. Kyeoung Hwa Kim and has progressed much in seven years. Being an avid member of CPYO for the past four years, he won CPYO's solo competition in 2012 and 2014. In 2013, Brian won first place in the American Protege International Music Talent Competition and American Protege International Competition of Romantic Music; he had the honor of performing at the Weill Recital Hall at Carnegie Hall. He won grand prize in the 2013 Korea TImes Youth Music Competition. In 2014, Brian won first prize at American Fine Arts Festival Concerto Competition. He won first place at 2014 United States Open Music Competition and was an Outstanding Gold Medalist at Winner Recital. Brian also was a winner in Menuhin-Dowling Nueva Competition and Chinese Music Teacher Association of Northern California. In 2013, Brian was a member of the California All-State Honor Orchestra. Brian participates in benefit concerts and music ensembles. In 2013, he was a member in the J'adore Cello-Nocturne that raised over $10,000 to St. Jude Children's Research Hospital. He has performed in concerts such as the Hope Box Charity Youth Orchestra that raised money for cancer patients and for the youth at North Korea.
Since freshmen year, he has been the principal of his school symphony orchestra and chamber orchestra, and he is also a photo staff member for his school yearbook. he enjoys volunteering by playing music at hospitals and senior centers and he enjoys teaching music to disabled students. In his free time, Brian likes watching movies, playing video games, talking with friends, and listening to music.
Andrew Cho is currently a freshman at Leland High School. Starting at age five, he started his musical adventure by learning the piano. In fourth grade, Andrew started to gain more interest in the sound of the cello, and started studying the instrument under the tutelage of Ms. Kyeong Hwa Kim. This is Andrew's fourth season with CPYO, and he has performed a solo with the Associate Orchestra in 2012. In 2013, he participated in a benefit concert called "J'adore Cello-Nocturne" which donated to St. Jude Children's Research Hospital.
Currently, Andrew is the principal cellist of the Leland High School Orchestra. He also participates in other music-related benefit organizations. Outside of music, Andrew enjoys soccer and listening to various kind of music.
---
Recent Works.